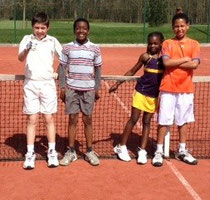 The juniors took centre stage on a really sunny weekend which was to prove highly successful in stark contrast to our adult teams ;) 
U18 Girls team - player captain Rushan was joined this week by Naomi in an away fixture against Byfleet.  The duo combined effectively to record a 3-0 victory and cement their place at the top of the group.
Green team 10U team - MJ stepped in to join our team as our top player to support captain Debbie in keeping the boys in order.  This was the boost we needed to overcome the youngsters from the Weybridge Academy making light work of the clay courts.   Maceo and Tarique also bossed their singles while Hamish, who incidentally is one of the country's best young skiers, made his debut for our team for an overall 4-2 victory.
Orange team 9U - pound for pound this could be our strongest age group and it is disappointing they were not put in the top league.  The team led by Valentina comprised Mukhtar, Alex, Max and Ayodeji  duly came through 10-0 against Epsom.
Red 1 - Andrew's family pulled out all the stops with an impressive feast of refreshments  for the visiting  Surbiton team.  Mathew FB was number one ably supported by Michael, Joshua and Dorothy .  We were also able to begin our campaign with a 12-4 win.
Red 2 - Kierstie made her debut as captain with the team bolstered by the strong presence of Maria as number one.  She duly won her matches and along with great contributions from Teddy, Rebecca and Lilla this was enough for our team to record a 8-8 draw versus Shirley Park.
Also, well done to the mixed doubles adult team of James & Julia, Ken  & Katie who beat Camber 5-3 in the last of the winter fixtures.