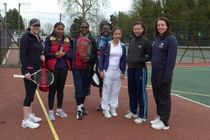 The women recorded our first senior victory while the 10U and 8U first teams also won.  A tough round for the U14s, U8 seconds and the mens first teams.  Read more....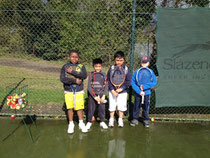 We found the going tougher in the third round of the Surrey Aegon Team Tennis leagues.  The good news was that the ever reliable 10U team recorded a 5-1 thumping of South Croydon & Purley Bury.  A long distance trip for the 8U first team resulted in a 15-1 win over Busbridge.  However, the Club's undefeated record in the juniors was ended with a narrow 7-9 loss to Wimbledon for the 8U second team.  In the Boys 14U Premier League the Club faced a very strong team from Canterbury going down to a 6-0 loss despite forcing a match tie break in 3 of the rubbers.   Overall the club has 9 wins, 2 losses and 1 draw.  U14 Captain Sam Mhangami said "I could n't fault the effort of our players and we had chances in three of the matches.  I want everyone to practice hard and produce a fight back in our next match against Hackney." 
In the adult division the mens first team of Abdul, Carlos, Niall and Thomas suffered a second successive loss on tiebreak shoot out this time against Wigmore.  The women had a good result defeated Lifetime Tennis from Wandsworth 5-1.  Acting captain Becca Beach saying "we hadn't had much time to prepare our doubles but I was really impressed with our young players Andrea Poveda-Ocampo and Rushan Tonge-Bobia as they dictated the top singles for us."