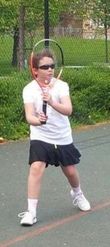 Juniors
The orange 9U team of Mukhtar, Alex, Max and Ayodeji had a busy weekend with  demolitions of Banstead Downs on Saturday and David Lloyd Raynes Park on Sunday.  They are undefeated with just one more match to play.
The red 8U first team faced Purley at home and recorded a 13-3 win.  Great performances from Matthew, Joshua, Michael and Dorothy. 
The 18U's had a rest day after the withdrawal of Pit Farm (Girls) and Ham & Petersham (Boys) withdrawing.
Once is an accident, twice a coincidence but three times?
The mens first team of Charles, James, Carlos and Kawee lost to Old College 4-3 losing their third consecutive match tiebreak and fourth loss in a row.  This was particularly disappointing after we led 3-1 after the singles.  A harsher critic than myself might observe that, after 8 doubles matches with only 2 wins along with 3 consecutive doubles match tiebreak defeats, the first team might benefit from some doubles practice sessions rather than continue to be the whipping boys for the division. 
The womens team of Marie, Julia, Amanda and Dawn faced a very strong Westside team who wore matching outfits!  We didn't do ourselves any favours by arriving just after the start time after our opponents had already been warming up for thirty minutes.  We were caught cold in the opening round but Marie showed great skill as our number one in  a competitive match.  The reverse round of doubles and singles was hard fought but we had to concede a 6-0 defeat. 
The mens second team in contrast performed beautifully despite Martin's absence.  The team led by Darell on the day came out 5-1 winners against Sheen with Darell, Robert and Dean all winning their singles. 
In the Southwark Mens Doubles league Charlie & Anselmo and Robert & Guilian won 8-0 against Edward Alleyn.