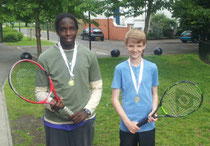 Boys 18U tournament
We ran an LTA grade 5 Boys 18U tournament on Friday 31 May.  The field was made up of Nicholas, Samuel, Shari, Devante and Kiryl.  In the first match Nicholas gained the upper hand over Kiryl.  In the semi final exchanges Devante just lost out to Samuel on a match tie break while Shari was just too strong for Nicholas....  click on heading for full details.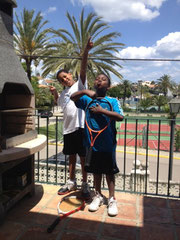 Devante defeated Kiryl in a ratings match which is likely to mean he moves up to 10.1, congratulations!
The final pitted Shari and Samuel together with the former winning through 4-2, 4-1 in a good match.  It was excellent to see some of the 'fringe' players take centre stage and we hope to see all the players competing more. 
Mukhtar watch - young Mukhtar won the Grade 3 Park Langley event and also today, bringing his summer tournament record to 6 out of 6.  A grade 2 on Sunday will be tough though.
Maceo and Quincy - are training hard for the club championships in Spain!