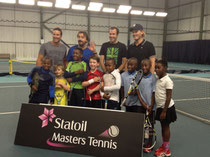 Eight lucky youngsters from Southwark City Tennis Club had an exclusive tennis lesson with former Grand Slam winner and World number one Pat Rafter assisted by former world top five ranked players Greg Rusedski, Thomas Enqvist and Henri Leconte.  The event took place on Saturday at the Harbour Club in Chelsea.  The players were selected as part of a long standing tennis programme with the Give It Your Max Charity and Statoil.  Former Wimbledon champion Pat Cash watched some of the training and remarked on how good the Southwark players were.
After being put through their paces in the morning the players were joined by 12 relatives and other players from the club to watch the Masters event at the Royal Albert Hall.  A highlight was watching John McEnroe in action but the children's favourite were the  tricks of Mansour Bahrami.
Head Coach Umran Ali was delighted that the children had such a good day as they have all worked so hard throughout the year.