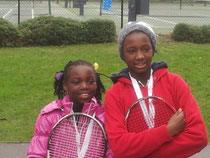 A massive well done to Dauphine Rolin who won the girls 14U event, her first tournament win at this level.  In the Girls 9U Orange event Maria Amoah was our only representative but defeated 5 other girls to take the Gold Medal.  The boys Green and Orange events both had to be cancelled due to the rain.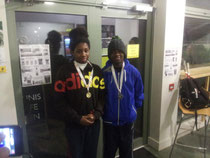 Andrew Brown was his usual phlegmatic self in taking the Boys 14U title with Jerome Gayya performing creditably at the event.  
The Under 16 Girls event was dominated by Naomi Brown who brushed aside the challenge of MJ in the final with some hard hitting.  Nicola Kamara, Weronika Cwiklak, Adicqua and Rukiya Ellis and Dauphine Rolin all put in excellent efforts.  Congratulations to Naomi who is the first girl at the club to reach a 7.2 rating.  
In the Boys 16U number 1 seed Jotham Tonge-Bobia was in imperious form defeating Andrew Brown in the final and without coming close to losing a set in the event. Young Maceo Simpson won the consolation event with Arum Akom and Abdullahi Daud also scoring wins.   
The pre-Christmas red tournament was won by Michael Frimpong, notably Lucas Ebert was able to break up the twins hegemony taking the silver medal with Joshua Frimpong having to settle for third place.