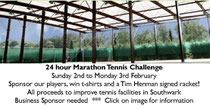 Win Exclusive Prizes!
Donations of £10 or more can be entered into a draw for exclusive event T-shirts  (draw on Friday 23 January)
Donations of £20 or more can be entered into a raffle to win a Head racket signed by Tim Henman (deadline Wednesday 29 January)

Business Sponsor Needed
Two of Southwark City Tennis Club's star players are taking part in a 4 hour tennis marathon on Sunday 2nd February at the National Tennis Centre.  If this was not hard enough they will be taking on two ex-Davis Cup players!  During the event our two players will also have a few goes at recording their fastest serves.  
We would like a corporate sponsor for this.  The format is to match the total service speeds recorded, e.g. if our players record 90mph and 92mph this would give a total sponsorship of £182.  There is also a possible bonus if Tim Henman records an identical service speed to one of the players in his 3 attempts.   For example, if Tim records a 92mph the sponsorship would go up to £274.  
The sponsor will get some photos of our players and the ex-Davis cup players (Danny Sapsford and players such as Barry Cowan and Jeremy Bates are taking part) in front of the sponsors pop up banner.  
The amount of the sponsorship can be capped!  All proceeds will go to improving the facilities at Burgess Park one of the leading community tennis venues in the country.  
Click here to contact us