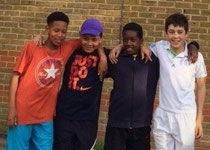 Southwark City Tennis Club was looking for a positive response following its worst ever weekend of results in the Surrey Leagues at the end of April.  While not perfect the teams did respond strongly and, with 50 players now having represented the club, experience is growing.  
Read more to find out how well we got on!
The 12U boys team of Maceo Simpson, Harry Edgeler, Tarique Tonge-Bobia and Hamish Ellis defeated Virgin Active Surrey 5-1 to set up a likely head to head against Weybridge for the league title.  Rushan's Girls U18 team of Andrea Poveda and Naomi Brown were too strong for Purley recording a 3-0 whitewash, a win in their last match will see them lift the league title for the second year in succession.
However, the weekend matches were not without their reverses.  Our 9U first team of Matthew Fisher Borrow, Teddy Upton, Hikram Olaiya and debutante Sali Traore lost out 8-2 to Surbiton while the 2nd team of Maria Amoah, Dorothy Tyson, Fitzroi Capili and Kleone Gayya went down 7-3 against Lifetime Tennis.  Our number one player Maria won both her matches and her male opponents were overheard in shock saying that "her serve was unbelievable, I could hardly see it!" 
In the Red 8U fixture we faced a Roehampton side with two very strong brothers Jack and Charlie Nelson.  Our young team of Shiv Kashyap, Lucas and Fiona Ebert and Jubril Andu (average age 6!) eventually lost out 10-6.  Some emotional reactions in very close match situations cost us and this is an area the players will have to work on. 
The boys 18U team defeated Ham & Petersham 2-1 in a delayed fixture but lost out against Sutton Tennis and Squash Club in the decisive doubles rubber after an earlier win for Andrew Brown and a narrow loss for Abdullahi Daud in the singles  However, the team are still likely to take the title if they can score a win over Croydon in the last fixture. 
In the less emotionally charged world of Sunday morning doubles our mens team of Dean Louw, Martin Riols, Robert Benjamin-Hardie and Joan Hortet scored a 7-1 victory over Honor Oak.