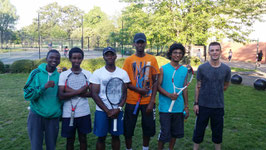 The Southwark City Tennis Club teams have now played 30 matches with the W column showing a meagre 10 so far.  So far 55 players have represented us comprised of 34 men and 21 women (2013 55 with 40 male and 15 female).  The The weekend was dominated by a showdown between Southwark City Tennis and Wigmore.  Find out how we got on......
The day started with the two clubs 8U teams squaring up.  SCTC's stellar lineup featured Shiv, Lucas, Joshua and Annis , and inadvertently exposed the team captains inability to count to 4 after picking 5 players.  Jubril was kind enough to step down for the fixture.  The teams were level for much of the match but a disastrous round proved to be Southwark's downfall with the final score ending 10-6.  The womens match was  a more one sided affair.  Rushan and Andrea battled hard against higher ranked opposition but eventually succumbed.  Ulrike making her debut and Isebail were unable to turn the tide as the match finished 0-6.
The final instalment of the trilogy saw our mens first team record a superb victory over Wigmore on a match tiebreak.  Omar and Carlos, the Club's 2013 and 2012 champions respectively, defeated their opponents in both singles and doubles.  Special mention to Junior who had a match point with the ball agonisingly clipping the net and falling back on the wrong side before eventually losing 9-11 in the match tiebreak.  Kunal back playing after a long layoff faced an uphill struggle as he played his first ever competitive match on clay.  After the singles and doubles the sides were locked at 3-3.  With two players selected for the match tiebreaks Omar and Carlos duly stepped forward to secure the win.
The mens second team were bereft of all the regulars.  With an average age of 22 all four of Southwark's players were making their debuts.  The juniors Abdulllahi and Andrew are building a reputation for getting the job done and this continued with straightforward victories in both the singles and doubles.  Ollie had a terrific singles debut win but Tom was disappointed with his singles play but regrouped to team up with Ollie to take the final doubles leaving Southwark with a 5-1 win.
Our last match in the Surrey league was the U8 second team who made an 80 mile round trip to play Bourne's A team.  Southwark's team featured two pairs of siblings with Janice, Louise and Jesse making their debuts.  Janice's older brother and old hand Caelan was Southwark's only player to record a win as the team went down 14-2.
In the Southwark Mixed Doubles league Jackie and Patrick's dynamic all court tennis was far too hot for North Dulwich to handle as they took all four sets.  Becca, making a welcome return, gradually  regained her sharpness as she and David split their four sets to leave SCTC with a solid 6-2 victory.
The Club also hosted an individual 8U tournament on Saturday with home players Shiv and Annis taking runner up and third place respectively.