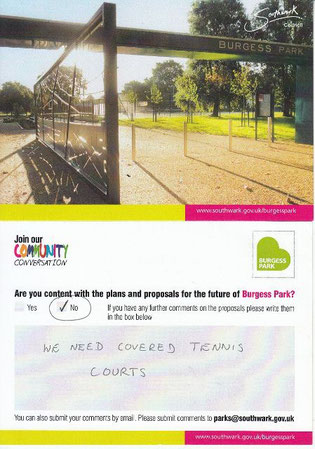 Burgess Park Masterplan
The Council have launched the second round of the consultation. 
Thanks to everyone that contributed in the last round.  Tennis was the number 1 priority in the first phase consultation and covered courts were the most requested individual feature. 
However, for funding and cost reasons the Council, and also the LTA, are nervous about the project and therefore have not included covered courts as part of the plan.  The proposal is just to rotate the existing court and practice wall to create 3 courts.
We are researching how the costs can be reduced but in the meantime we need your help to keep the covered courts on the agenda.  The simple message is
Please reinstate the covered courts into the Burgess Park masterplan!
For full documentation of the plans for the whole park (new all weather pitch, additional planting, reinstating a section of the canal, new toilets by lake, rerouting of Cobourg Rd, new lake, 2 new children's play areas, sealing up the underpass, new BMX/boxing building please see the following link  here (18Mb)
Please contact parks  parks@southwark.gov.uk   or fill in the online form by clicking here    (Deadline 13/03/15)