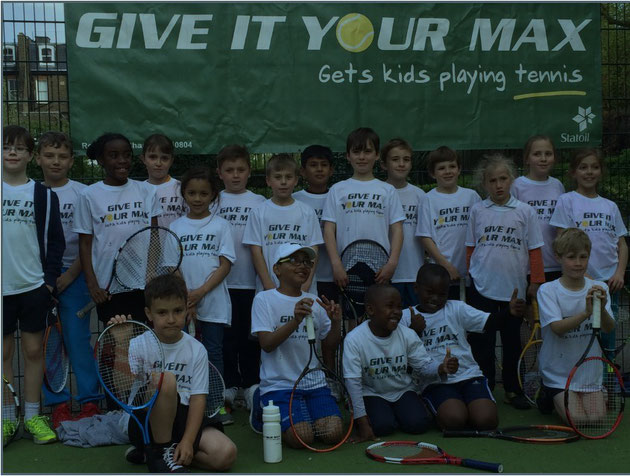 Lucas, Jesse, Jubril and Fiona represented Southwark City Tennis Club in this competition.  Click on read more to see how they get on.  
20 children from five of London GIYM programmes took part on Thursday 30 April in the second annual GIYM/Statoil Orange tournament held at Paddington Recreation Ground.  Youngsters from our Paddington, Southwark City Tennis Club (Peckham), Lewisham, Borehamwood and Merton
GIYM programmes came, after school, with their coaches to compete in this event.
It was a great evening of fun and competitive tennis. Everyone played their hearts
out, battling for every point yet showing great sportsmanship, win or lose.
The event began with round robin boxes so everyone got to play plenty of matches
with the winners and runners up of the boxes going through to the knock out stages.
The Southwark players did really well with Fiona getting to the quarter finals and Jesse, Lucas and Jubril all reaching the semi finals.  In the Southwark showdown Lucas just got the better of Jesse to reach the final.  
The final was contested between Fintan Delaney from Paddington Recreation
Ground and Lucas Ebert from SCTC. Long rallies dominated this match with a
great variety of shots and movement from both players. As with every great match
there had to be a winner and runner up and this occasion our winner was Lucas!
Other prizes awarded were the trophy for the most successful club throughout the
tournament, which, this year, went to Southwark City Tennis Club. GIYM also gave out a "Fair
Play/Sportsmanship Award" donated by our sponsor Statoil. Young Izabella Repakis
won this for her attitude and enthusiasm on the night. Thank you to Statoil for
sponsoring this great event. Well done to all the players for making the event so
great!