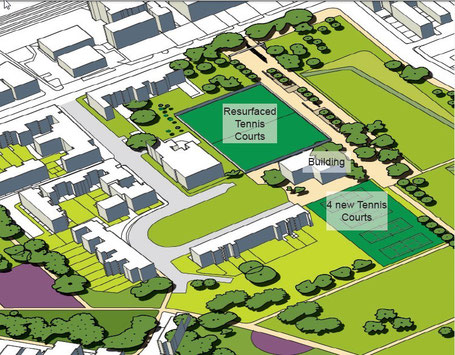 The new masterplan for Burgess Park will be published in the next week or so.  This will involve an investment of £2.8 million in sports out of the budget of £7.2 million.  Tennis featured very strongly in the consultation and as a result is the second ranked priority.  The possible items for tennis are:

1. Resurfacing of the existing 6 courts built in 2004
2. Creation of a plaza around the pavilion building with a possible expanded cafe offering
3. Expansion from 1.5 to 4 courts with possible options for floodlights and cover the courts.
At present the commitment for funding extends to item 1 and possibly item 2.  The expansion of the courts will require investment from other sources.  It is really positive that the physical space has been potentially allocated to the new tennis courts while the possibility of covered courts has not been ruled out.  See our film by clicking here   Raising the money for this will be a quite significant task and require a wide range of funders.  We are hoping to work with Southwark Council and the Lawn Tennis Association to discuss this within the context of the long term development of tennis in the borough.