Welcome, fellow tennis enthusiasts! Whether you're a seasoned player, a weekend warrior, or a newcomer to the game looking to get your feet wet, London's tennis scene has something to offer everyone.
As the host city to the world-famous Wimbledon Championship, it's safe to say tennis is more than a casual pastime here – it's part of our cultural DNA. The city is teeming with courts, from public parks to exclusive clubs, all buzzing with the rhythm of rallying racquets.
But let's face it, finding the right place to play can sometimes be as challenging as a five-setter at Wimbledon. It's important to find a venue that suits your skill level, budget, and location preferences. Fortunately, this guide will navigate you through London's diverse tennis landscape and help you find your ideal court. So, grab your tennis shoes, and let's get started!
List of Courts
| Location | Category |
| --- | --- |
| Regent's Park | Public Tennis Courts |
| Hyde Park | Public Tennis Courts |
| Queen's Club | Private Tennis Clubs |
| Roehampton Club | Private Tennis Clubs |
| All England Lawn Tennis Club | Private Tennis Clubs |
| Finsbury Park | Parks with Tennis Facilities |
| Greenwich Park | Parks with Tennis Facilities |
| Will to Win | Tennis Coaching Centers |
| National Tennis Centre | Indoor Tennis Centers |
| Islington Tennis Centre | Indoor Tennis Centers |
| Haymarket Hotel | Hotel and Resort Tennis Courts |
| Globe Tennis Club | Pay-to-Play Tennis Courts |
| University of Roehampton | School and University Tennis Facilities |
| Loughborough University London | School and University Tennis Facilities |
| Imperial College London | School and University Tennis Facilities |
| Paddington Recreation Ground | Community Centers with Tennis Courts |
| Talacre Community Sports Centre | Community Centers with Tennis Courts |
| Virgin Active | Health and Fitness Clubs with Tennis |
| David Lloyd Clubs | Health and Fitness Clubs with Tennis |
Public Tennis Courts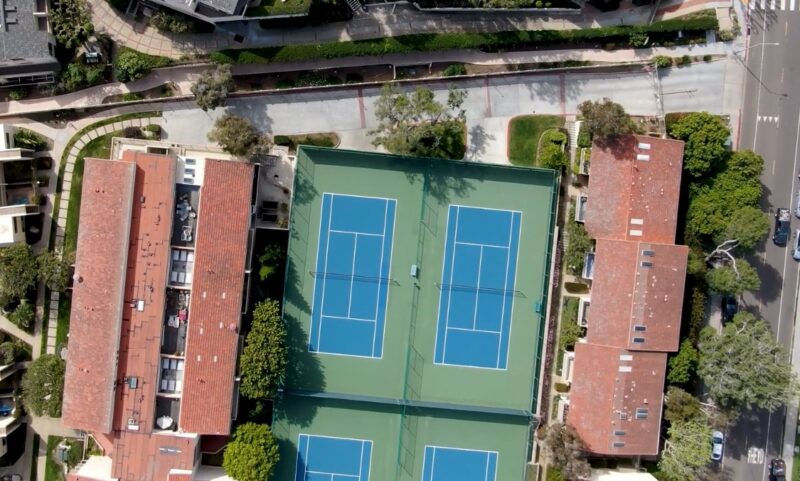 The beauty of public tennis courts is that they offer a great starting point for beginners, a casual environment for social players, and an inexpensive option for regulars. The capital is dotted with an impressive variety of public courts, each with its unique charm. From the pristine facilities of Regent's Park to the leafy haven of Hyde Park, there's no shortage of public courts to explore.
Public facilities also foster a sense of community. They offer a stage for friendly competition and often provide an opportunity to meet fellow players in your neighborhood. However, keep in mind that these courts can get busy, especially during peak times.
So, it's advisable to book ahead whenever possible. Platforms like 'Tennis in London' make booking simple, allowing you to reserve a court with just a few clicks. So, whether you're in the mood for a friendly hit or a competitive match, London's public courts have got you covered.
Private Tennis Clubs
If you're seeking a more exclusive environment, London's private tennis clubs are a worthy consideration. They often offer top-notch facilities, well-maintained courts, and a range of additional services like training and events.
Clubs like the Queen's Club, the Roehampton Club, or the prestigious All England Lawn Tennis Club (yes, where Wimbledon is played!) exemplify the crème de la crème of the London tennis scene.
Membership to these clubs, while costly, comes with a host of benefits. You're assured of court availability, even during peak times, and you gain access to a community of passionate and dedicated players. Additionally, you can participate in club tournaments, and social events, and even get coaching from professionals.
However, getting in isn't as easy as just paying the membership fee. Most clubs have a rigorous application process, which might require references from existing members. So, if you've got a bit of budget and are serious about your tennis, private clubs might just be your cup of Pimm's!
Parks with Tennis Facilities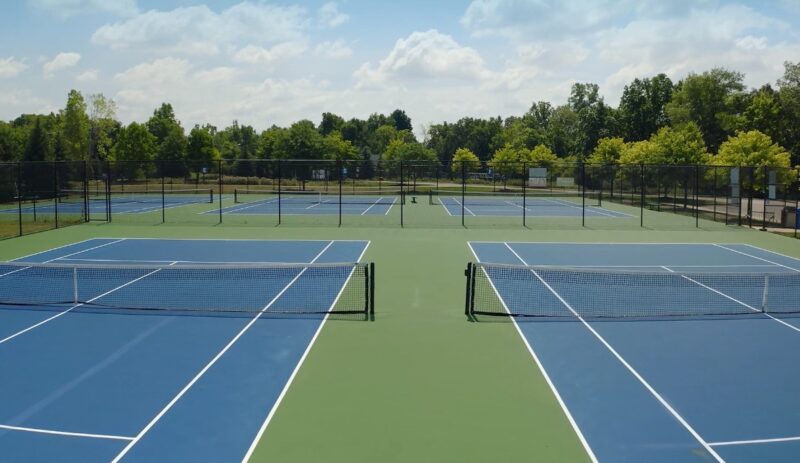 Next up on our list are the lovely parks scattered across London that offer delightful tennis facilities. For instance, Finsbury Park in Harringay boasts of nine hard courts and a friendly community of players. Meanwhile, Greenwich Park in south-east London offers six recently refurbished courts with the added advantage of a stunning skyline view.
Playing tennis in a park is quite an experience in itself. The open-air, the greenery around, and the chirping birds all contribute to an atmosphere of tranquillity that can enhance your game and make your experience more enjoyable.
However, as with public courts, these facilities can be busy, particularly on sunny weekends. So, remember to check availability online and book ahead to secure a slot.
Tennis Coaching Centers
Whether you're new to the game or an advanced player, tennis coaching centers can help take your skills to the next level. London is home to some outstanding tennis academies that offer coaching for all ages and levels. Will to Win, for instance, runs multiple tennis centers across London, providing a variety of coaching programs from group lessons to private coaching.
It's not just about technical skills. These centers focus on all-around development, including matchplay strategy, physical conditioning, and mental strength. Remember, tennis is a sport that constantly evolves, and there's always something new to learn. So, invest in your game, explore the various coaching options available, and see your on-court performance soar!
Indoor Tennis Centers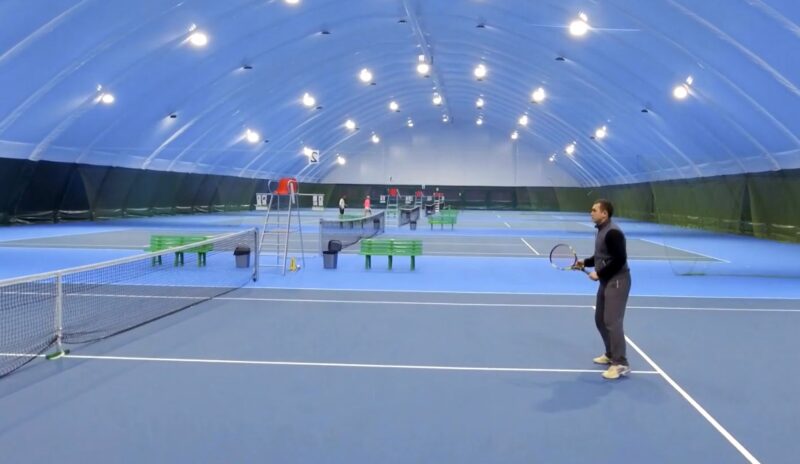 If you're familiar with London's weather, you'll know it's notoriously unpredictable. But don't let the rain spoil your game! Indoor tennis centers, like the National Tennis Centre in Roehampton or the Islington Tennis Centre, provide sheltered courts that allow you to play no matter the weather.
Playing indoors also has a few other advantages. Without the elements to disrupt your game, you can focus solely on your technique, making it an excellent choice for honing your skills.
Plus, indoor facilities often come with modern amenities like changing rooms, equipment shops, and cafes. Keep in mind, though, these centers are typically busier during the colder months, so it's a good idea to book your court in advance to ensure you get your game in.
School and University Tennis Facilities
Many educational institutions in London have well-maintained tennis courts, often available for use by their students. Universities like the University of Roehampton, Loughborough University London, and Imperial College London have impressive tennis facilities.
For students, these facilities offer a convenient option to practice their games without straying too far from campus. Some universities even offer tennis as part of their sports curriculum or have tennis clubs that organize regular events and matches. However, do bear in mind that access for non-students can be restricted, so it's worth enquiring beforehand about their usage policies.
Community Centers with Tennis Courts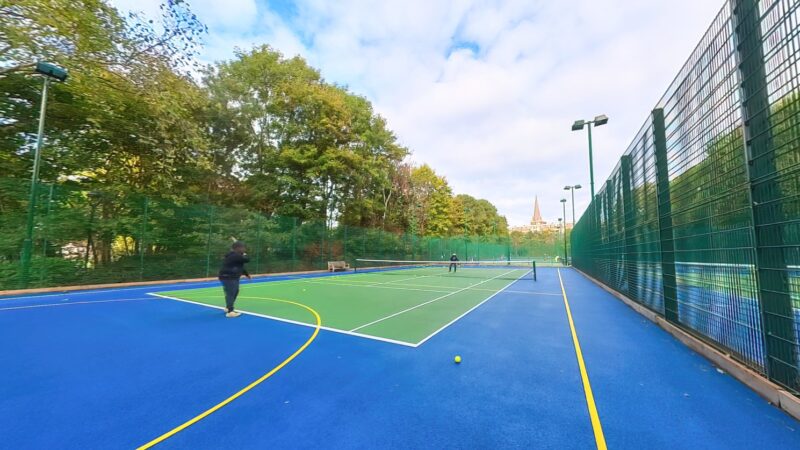 Community centers serve as hubs for local activities and often include sports facilities, tennis courts included. These centers, like the Paddington Recreation Ground or the Talacre Community Sports Centre, offer local residents a convenient and affordable way to enjoy a game of tennis.
Apart from the convenience, supporting your local community center also means contributing to local sports initiatives and community development. Again, remember to check the schedule and availability. Some centers also offer membership options for regular players, providing an affordable alternative to private tennis clubs.
Health and Fitness Clubs with Tennis
For those looking to combine their love for tennis with general fitness, look no further than health and fitness clubs featuring tennis amenities. Establishments like Virgin Active or David Lloyd Clubs are more than just gyms; they provide a range of facilities, including tennis courts, coaching, and competitive leagues.
Joining a health club can be a great way to keep fit, make friends, and improve your tennis game all at the same time. These clubs typically require a membership, which often includes access to all their facilities, from tennis courts to swimming pools to fitness classes. Be sure to check out the various membership options available to find one that best fits your needs.
Precautions and Tips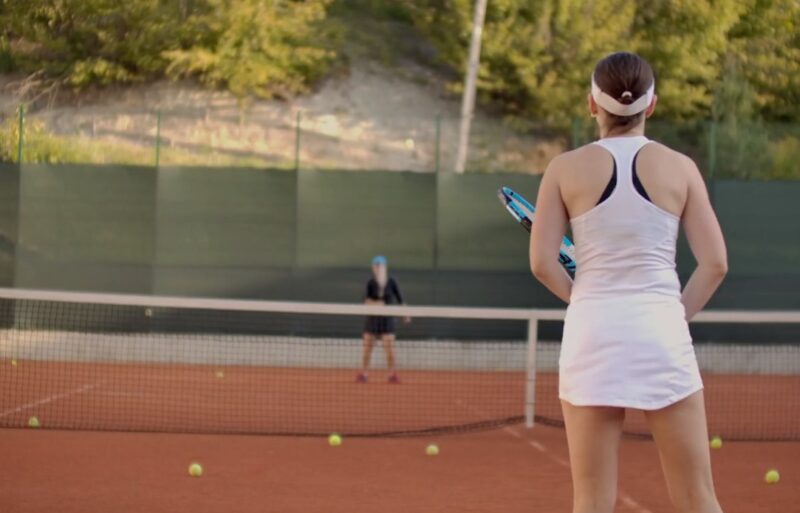 As exciting as it is to step onto a tennis court, it's equally important to prioritize safety. Ensure you're well-equipped with the right gear, including a good pair of tennis shoes to avoid any slips and sprains on the court. Warm up before starting your game to prepare your body and reduce the risk of injuries.
Selecting the right tennis facility also plays a crucial role. Consider factors like proximity, court surface (hard, clay, or grass), and lighting for evening matches. The right court is the one that matches your playing style, comfort, and skill level.
Remember, it's all about enjoying the game and improving at your own pace. After all, tennis in London isn't just about the competitive spirit of Wimbledon, it's about the love for the game and the community it brings together.
Fun Facts about Tennis in London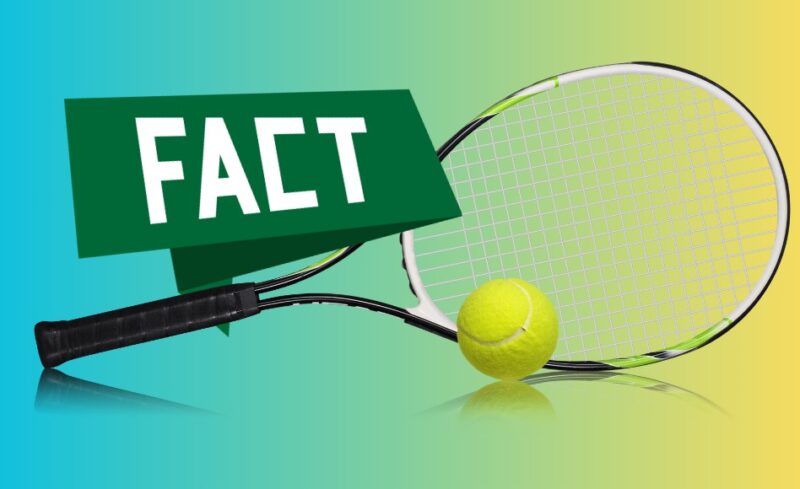 To keep the ball rolling, here are a couple of lesser-known facts about tennis history in the city.
Did you know, for instance, that the oldest tennis court in the world is in London, at Hampton Court Palace?
Or that Wimbledon is the only Grand Slam still played on grass?
FAQ
Are There Any Tennis Leagues or Local Tournaments I Can Participate in London?
Many public courts, private clubs, and community centers in London organize regular leagues and tournaments for various skill levels. The information about these events can usually be found on their respective websites or notice boards.
Is There a Way to Find Tennis Partners in London?
There are various social networking platforms and local sports clubs where you can find potential tennis partners in London. Some tennis clubs and coaching centers also offer matchmaking services for their members.
Are There Specific Programs/courts for Kids/seniors in London?
Many tennis facilities in London offer programs tailored for different age groups, including kids and seniors. It's recommended to contact the facility directly or visit their website for specific information on these programs.
Conclusion
So there you have it, folks! An overview of the myriad tennis options that London offers, from public courts to luxurious resorts. There's no doubt that this city is a paradise for tennis enthusiasts. Whether you're a seasoned pro, a hobby player, or a curious beginner, there's a court waiting for you.
So grab your racquet, put on your tennis shoes, and hit the courts. After all, as the great Arthur Ashe once said, "Start where you are. Use what you have. Do what you can." Happy hitting!